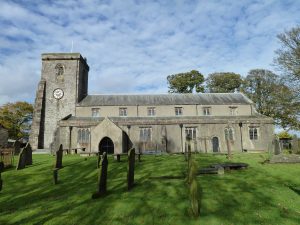 John Jackson was born in 1818 Slaidburn, Yorkshire to parents Richard Jackson (1797-1830) and Grace Dewhurst (1796-1865). Richard was a tenant farmer in the nearby village of Sawley, less than 7 miles away.
John was baptised 11 May 1818 at St Andrews in Slaidburn. He was one of eight children born to the couple.
By the 1841 census John was aged 23 and working as a servant with his two sisters Ann aged 22 and Alice aged 14 in nearby Accrington, Lancashire with the Dewhurst family. His mother's family – William was her brother.
Accrington is 12 miles away from his father's farm in Sawley. William Dewhurst was the Innkeeper of the Black Bull Hotel, and owner of the Bank Brewery, a churchwarden at St James church and superintendent of the Sunday School, as well as being engaged in the cotton trade. He died in 1892 aged 86.
Three years later 26 year old John appears to be back on the farm working, as when he married in Whalley on 14 December 1844, he gives his occupation as a farmer of Accrington. He married 22 year old Sarah Bramley, a spinster of Whalley, daughter of Lawrence Bramley, a farmer, (1784-1860) and Sarah Speight (1790-1866).
Sarah Bramley was born in 1822 and baptised at Whalley, Lancashire on 13 October 1822.
The couple were married by license (not by banns), usually because they were either under age (not in this case), or they wanted the marriage completed quickly for some reason – yes, their first child Richard was born less than six months later. John gives his residence as a farmer of Blackwood Road, Accrington on Richard's baptism record. The couple had 11 children.
1845 – Richard b Accrington d 1869 Oswaldtwistle
1847 – Sarah b Accrington  d 1915 Blackburn
1849 – Grace b Accrington d Blackburn
1850 – Lawrence b Waterside, Oswaldtwistle d 1916 North Melbourne, Australia
1853 – Robert d Waterside, Oswaldtwistle
1854 – John b Waterside, Oswaldtwistle d 1924 Burnley
1856 – Hannah b Waterside, Oswaldtwistle d 1926 Haslingden
1858 – Adam b Waterside, Oswaldtwistle d 1858 Waterside, Oswaldtwistle
1859 – Margaret b Waterside, Oswaldtwistle d 1865 Waterside, Oswaldtwistle
1862 – Sampson b Waterside, Oswaldtwistle d 1864 Waterside, Oswaldtwistle
1867 – Selina b Waterside, Oswaldtwistle d 1867 Waterside, Oswaldtwistle
So looking at the children's places of birth and death we can see that John and his family were living in Accrington from at least 1841 to 1849, and then they moved to Waterside near Oswaldtwistle in 1850.
The 1851 census tells us that John was a farmer of 30 acres at Waterside, aged 33, with wife Sarah and four children and a servant. Waterside is about half a mile from the town centre on the edge of Accrington.
The 1861 census, John has increased his farm size at Waterside to 50 acres, and enlarged the family by a further four children.
It appears John also had an interest in the local watering hole in New Accrington, as a document is held at the Lancashire Archives. The index entry states "New Accrington, Notice of intention of Edward Lonsdale to appeal against the refusal to grant a certificate of renewal of a beerhouse licence for premises in Warner St, known as the Good Ale Tomorrow for Nothing Inn, owned by John Jackson of Oswaldtwistle, farmer. 1869 13 September."
Ten years later in 1871,  he is still farming at Waterside, and six children are living with him. Daughter Grace is a 22 year old cotton weaver, and the rest of the family are either helping on the farm or are at school.
Sarah Jackson died on 31 October 1879 aged 57 at her home in Waterside and is buried in the Oswaldtwistle Cemetery. Her daughter Selina aged 9 is buried with her.
By the 1881 census the family have moved again, this time to another farm at Walton le Dale, 14 miles west of Waterside. The farm is 36 acres and is called "New Lemon House". John is a widower, and two daughters Sarah, an unmarried dairy maid and Hannah and her 6 year old niece (daughter of sister Grace) Mary Yates are living with him.
John died on 26 November 1886 at 136 Darwen Street, Blackburn at the home of his daughter Sarah aged 68 and is buried in the Oswaldtwistle Cemetery. In his will granted in January 1887 he left his property to his daughter Sarah, wife of Edmund Cooper of the Duke of York Inn.
There is a book available to read online about Accrington called Accrington through the 19th century  by Richard Shaw Crossley and Richard Ainsworth