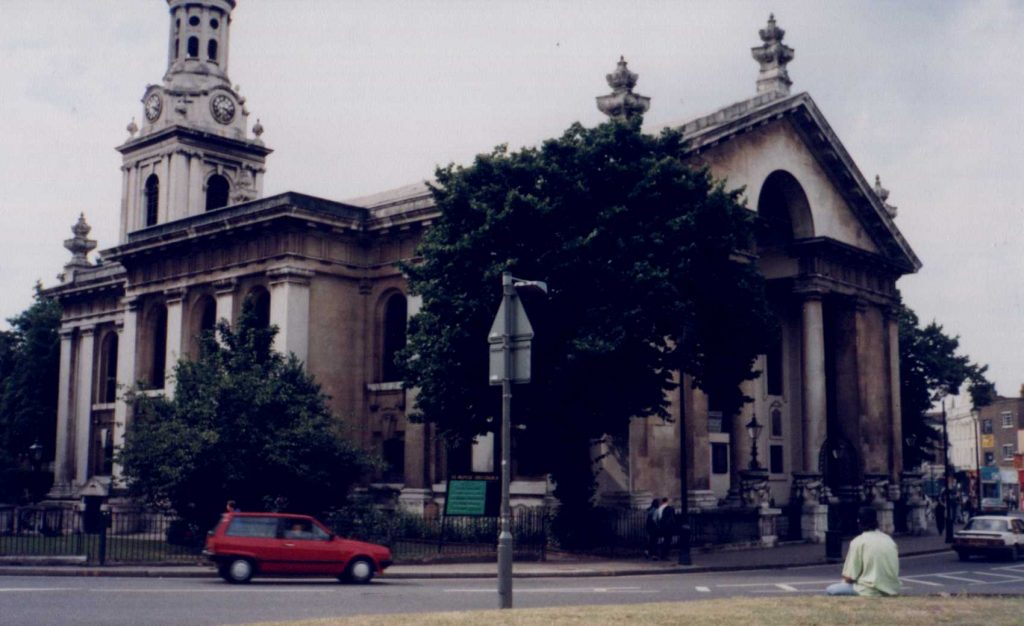 Mary Ann Stow was born to parents John Stow, a cabinet maker and upholsterer and Mary Beaver in 1804 in Royal Hill, Greenwich, Kent, England.
She was baptised in St Alphage/Alfege, Greenwich on 30 September 1804.
In 1840 she was living with her widowed mother and sister Catherine and working as a Milliner at Royal Place in Greenwich, and the following year was living in Luton Place.
Unfortunately for some reason, despite coming from a very respectable family, she was arrested, charged and committed for trial for larceny on 21 October 1844 – stealing some 69 yards of calico from a shop. (see article below for further details).
Mary was convicted and sent to Newgate Prison for one year.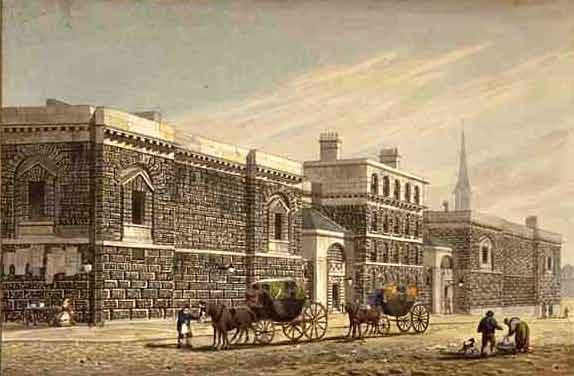 By 1851, she is living with the Spong family at 5 Little Orchard Row, and working as a dressmaker. Her father had died in 1823, and her mother in 1846.
Sadly, Mary appears to have re offended, and died in the House of Correction (probably Newgate) aged 51. She was buried in the Victoria Park Cemetery in Hackney, London on 14 May 1856.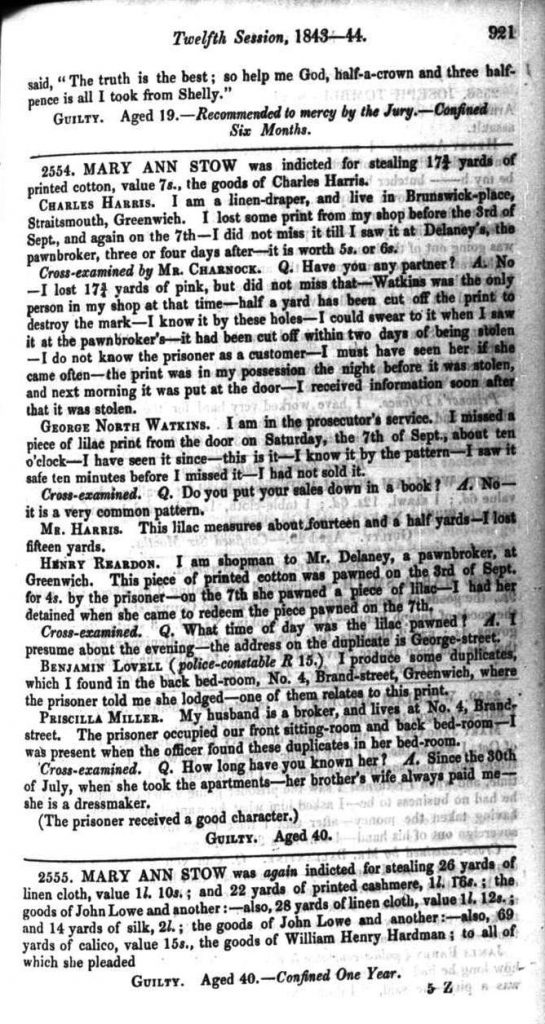 The following is an article that I researched and wrote for submission to an English Family History Magazine about my criminal ancestor – Mary Ann Stow 1804-1856.
MY CRIMINAL ANCESTOR
Have you ever wondered what it was that may have driven our ancestors to take up a life of crime – perhaps boredom, poverty or opportunity? Having found a law breaker in my own family tree, I decided to delve deeper into the records to find out more.
Mary Ann STOW was born and baptised in St Alfege, Greenwich to parents John STOW, (cabinet maker and upholsterer) and Mary BEAVER.
Mary was one of nine children born in Royal Hill, Greenwich and to my surprise while browsing the England & Wales Criminal Registers 1791-1892 on Ancestry, she appeared in the Maidstone, Kent indexes in October 1844.
The register stated she was accused of larceny, and was sentenced to a year in prison. My curiosity was peaked, and I then consulted the Old Bailey Online records for more of the story.
It appears Mary, aged 40, was indicted for stealing 17 yards of printed cotton from a local draper's shop. Mr Charles Harris of Brunswick Place, Greenwich attested he found his missing cotton in the local pawnshop the following day. Unfortunately for Mary, the pawnshop owner confirmed her as the seller of the stolen material.
Another interesting titbit emerged from Mary's landlord, Mrs Priscilla Miller, who stated that the prisoner occupies her back bedroom, and she was present when the police officer searched her room, and found duplicates of the stolen material there also. She stated Mary, a dressmaker, was of good character, and that her brother always paid her for the room.
I had previously found reference to Mary in 1840 as a milliner (UK City and Country Directories 1766-1946). In the 1841 census she is living with her widowed mother and sister in Luton Place, Greenwich.
Mary was also convicted of stealing 26 yards of linen, 22 yards of printed cashmere, 14 yards of silk and 69 yards of calico. She pleaded guilty, and was sentenced to the House of Correction for one year. Newgate Calendar of Prisoners (Find My Past) confirm her sentence, and described Mary as aged 40, 5ft 2in, brown hair, and slender.
But what led her to this situation, and what other records could I find that would tell me more about her family circumstances? Something didn't ring true, as I had previously found evidence of her brother William's wealth and high standing in the community.
So, I started with her parents and soon found her father John appearing in the 1816 London Gazette (www.thegazette.co.uk) in an order to make a "Dividend of the Estate and Effects of a Bankrupt" which was published in the London Gazette on 15 April 1817. Sadly, in 1823 John shot himself, and died.
According to her 1846 death certificate, John's wife Mary, died in the Greenwich Jubilee Armshouse. The Greenwich Heritage Centre (www.greenwichheritage.org) provided me with the Armshouse committee minutes, stating that Mary (senior) was admitted there on the charity of the St Alfege parish in December 1844. They explained that the Almshouse was funded by the Board of Charity Commissioners, and is still in existence today, with their website stating, "This almshouse charity caters for residents of the London Borough of Greenwich, with preference given to women over 50 years of age".
Both of Mary's parents, appear on the burial register of St Alfege. Following her parent's deaths, Mary (dressmaker) lodged with the Spong family at 5 Little Orchard Row, Camberwell, Surrey (1851 census).
Now back to her wealthy brother William, who worked with their father John, in London Street (cabinet makers and auctioneers). In 1828, William married Mitty GREENLIEF at St Dunstans, Stepney. A counterpart lease document (National Archives) show William taking over the lease of his father's property in 1834 two years after his father's death.
Using one of my favourite sources, newspapers (www.britishnewspaperarchive.co.uk), I found the election of William Stow of St Alfege to churchwarden in 1845, Vicar's Warden in 1847, and to the Board of Governors in 1848.
Then in 1848, I found a sensational Greenwich Police Court article involving Mr William Stow, churchwarden, summoning his neighbour Ebenezer Carpenter and his father Samuel Carpenter, to answer a charge of "insulting and using abusive language leading to a breach of the peace". Mr Stow swore that the defendants publicly shouted in the street that Mr Stow "should be ashamed of himself, sending his own mother to the workhouse to die, then to the Jubilee Almshouse to get rid of her and obtain the benefits, and had driven his sister Mary to Newgate, and was a blackguard".
The Mr Carpenters denied everything at first, and then pledged "that nothing of the kind would ever happen again". The last line of the article was the most telling. "The above charge arises out of church-rate disputes". (West Kent Guardian). It seems Ebenezer was most unhappy with Churchwarden Stow collecting his church rates!
Anyway, what of poor Mary, the would-be victim in all this? It appears, despite her brother's wealth, she plied her trade as a dressmaker until her death in 1856 in the House of Correction, aged 51. So, it seems she continued in her life of petty crime, dying in prison, and was buried in a pauper's grave in Victoria Park Cemetery, Hackney.
Wealthy brother William died in 1854, and his lengthy will states he left his money, stocks and various properties to his wife Mitty, his sister Catherine, and brother Alexander Stow, my third, great grandfather.