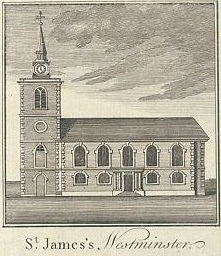 John William Beaver was born on 20 March 1746 in Westminster, London, England. He was the son of Robert Beaver (1720-1787) and Jane Moore (1720-1751). His father John was a breechesmaker in Westminster.
John was baptised on 4 April 1746 at St James, Westminster. He was one of four children born to the couple.
Robert was born ca 1720 and married Jane Moore on 19 April 1742 at St James, Westminster. Unfortunately Jane died aged 31 and was buried on Christmas Day 1751 at St James, Westminster.
He can be found in the UK Poll Books and Electoral Registers in 1749 working as a breeches maker in Windmill Street, in the parish of St James, Westminster.
In 1750 Robert appears in the Westminster Rate Books for Little Windmill Street, St James,  as the owner and occupier of two properties. Robert was buried at St James on 4 March 1787 aged 67 years.
The art of making breeches was an ancient one, made of leather, especially doeskin, or fabric, as this 1775 breeches making advertisement from the British Library explains.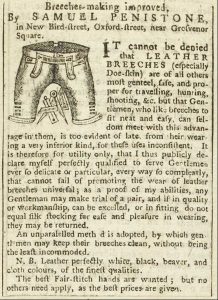 John like his father and grandfather before him, was a britches/breeches maker, firstly in London, and then sometime before his 26th birthday he moved to the village of Ash in the parish of Kent.
On 15 October 1772, aged 26, John married Ann Pilcher at St Nicholas, Ash Next Sandwich (sometimes just called Ash), Kent by banns. Ann gave her place of residence as Minster (Isle of Sheppey).
They both stated they were living in the parish and were a bachelor and a spinster.
Ann was born in 1735 and baptised on 16 November 1735 in Leysdown, Kent (6 miles from Minster). She was the daughter of John, a labourer, and Elizabeth Pilcher. She had one sister Elizabeth born in 1736.
Ash next Sandwich is a village and a parish in Eastry district, Kent.  The village stands on a rising-ground, by the side of Wingham Brook, a tributary of the Stour, 3 miles west of Sandwich rail station;  and has a post office of the name of Ash, under Sandwich, a money order office and a savings bank.  The parish comprises 6,871 acres.  Real property, £20,467.  Population in 1861, 2,039.  Houses, 438. Click on pics below to enlarge.
John and Ann settled in Ash and had an extensive family of 10 children, the first five being born in Ash before their move to Greenwich, 58 miles west of Ash.
Jane born 1774 Ash, died 1824 Lewisham, Kent. Marr Joseph Robinson 1814.
John Wm born 1775 Ash, died 1854 Greenwich. Marr Mary Brewer 1802. Navy.
Ann born 1777 Ash, died 1835 Greenwich. Marr Richard Baxter 1794.
George born 1778 Ash, died 1835 Greenwich. Marr Maria Robinson 1804. Shoemaker.
Mary born 1780 Ash, 1846 Greenwich. Marr John Stow. 9 children. Upholsterer
Elizabeth born 1781 Greenwich, died 1854 Greenwich. Marr John Elstob 1808 and Thomas Pettafor 1810. 2 children
Ruth born 1783 Greenwich, died 1787 Greenwich aged 4
Maria Matilda born 1785 Greenwich, died 1785 Greenwich aged 1 month
Charlotte Augusta born 1785 Greenwich, died 1785 Greenwich aged 2 months
Dinah born 1787 Greenwich, died 1868 Alderbury, Wiltshire not married.
John, aged 35, is recorded working as a breechesmaker in 1781 in the parish of St Alphege in Greenwich in 1781 on his daughter Elizabeth's baptism record.
Breeches were an article of clothing covering the body from the waist down, with separate coverings for each leg, usually stopping just below the knee, though in some cases reaching to the ankles.
The breeches were normally closed and fastened about the leg, along its open seams at varied lengths, and to the knee, by either buttons or by a drawstring, or by one or more straps and buckle or brooches. They had fallen out of use by the mid-19th century in favour of trousers.
In 1790 the family are living in Church Street, Greenwich where they appear in the Greenwich Land Tax Assessment records, and also in 1798, being assessed 10 shillings.
John died in Greenwich aged 61 years in August 1807 and was buried in his parish church of St Alphege (Alfege) on 16 August 1807.
His wife Ann continued to live for another 16 years, passing away in April 1823 at Church Street at the age of 84 years. She was buried at St Alphege on 22 April 1823.
In 1840 their grandson George was still living at Church Street, working as a boot and shoemaker. (Pigots Directory of Kent).
Note – I have several DNA matches with descendants of John Beaver and Ann Pilcher.