Samuel Jackson (senior) was born in 1716 in Knotts, near Sawley, Yorkshire England to parents Robert Jackson (1686-1729) and Elizabeth Brearley (d 1728).
He was baptised at Bolton by Bowland, Yorkshire on 14 June 1716, four miles away. Samuel was one of five children born to the couple.
His father Robert was a small tenant farmer at Knotts. Samuel most likely worked on his father's land until at the age of 19 years, when he married local girl, Margaret Wolfenden on 6 February 1736 at Broughton in Yorkshire. Broughton is 11 miles from Sawley.
On his marriage register entry, Samuel is described as a husbandman (farmer) and they are both from within the Monastry of Sawley. The record also states they were "married by asking".  Asking was one of several terms used to describe the process of marriage banns, and was a common term from the Book of Common Prayer, which was common to all Anglican Churches.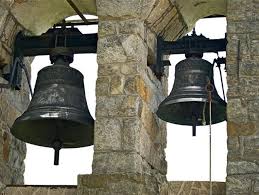 "Asking" comes from the meaning that the couple had to ask for the announcement of the marriage banns to be read out in both the dwelling parishes of the couple. The couple were then married with due announcement to their community, and with permission, as opposed to eloping to Gretna Green, or obtaining a special license.
In the north of England the custom was to ring the bells of the church three times after the third reading of the banns.
Samuel's intended Margaret Wolfenden, was a neighbour, the daughter of Richard Wolfenden (1689-1747) and Mary Isherwood (1689-1773).
She was born in Bolton by Bowland in 1715 and baptised there in the parish church on 11 March 1715. She was one of three children born to the couple – James (1713-1764), Margaret (1715-1776) and Elizabeth (b 1719).
In 1740 and 1746 both Samuel, and Margaret's father Richard Wolfenden appear in a legal document regarding a Sawley title deed held at the Yorkshire Archaeological and Historical Society (National Archives Discovery Catalogue).
1740 – Walker v Woolfenden. Document type: Two bills and two answers. Plaintiffs: John Walker of Greenford, Bolton near Bowland, Yorkshire, yeoman (cousin, heir and administrator of Judith Walker, spinster deceased late of Sawley with Tossett alias Tosside, Yorkshire). Defendants: Richard Woolfenden, Robert Bolland, Samuel Jackson and Margaret Jackson his wife and Alexander Scott. (Ref C 11/2269/41)
1746 – Walker v Wolfenden. Joint and several answers of Richard Wolfenden, Robert Bolland and Samuel Jackson, three of the defendants to the bill of complaint of John Walker, complainant; and later note about costs, 1746 Case relates to title to property in Knotts, Sawley, once in the possesion of Judith Walker, with Algernon Greville the owner of the inheritance [Former ref: Box 9; MCM 190, 191, 387]
According to Samuel's will, Samuel and Margaret had eight children, but I can only find baptisms for the first five of them –
Robert b 1738 Knotts, d 1803 Knotts, Marr Elizabeth Atkinson 1762.
Richard b 1740 Knotts,  d 1794 Bolton by Bowland. Marr Jane Atkinson 1768.
Ann b 1743 Knotts, d  Marr Richard Whittaker 1783.
Mary b 1745 Knotts, d 1776 Long Preston. Marr William Holgate 1765.
Samuel b 1748 Knotts d 1835 Slaidburn. Marr Hannah Geldard 1774. 8 children.
Margaret b 1751 Knotts, d 1806 Slaidburn. Marr John Redman 1770.
Elizabeth b 1754 d 1779 Forest, married John Turner 1775 Bolton by Bowland.
William b 1759 Marr Jennet Shaw in 1781 Bolton by Bowland
It looks like two brothers (Robert and Richard Jackson) married two sisters (Elizabeth and Jane Atkinson). Robert's will administration states he was a farmer from Knotts, Sawley.
The family lived at their farm in Knotts, in the parish (monastery) of Sawley for many years.
Samuel died in April 1774 at his home in Knotts, aged 57. He was buried on 3 April 1774 at his parish church in Bolton by Bowland.
His beautifully written will was written on 17 October 1774 and proved in June 1775 leaving his estate to his wife Margaret, and his children Elizabeth, William, Anne, Mary, Margaret, Robert, Richard and Samuel.
The will stated he was a husbandman of Knotts, in the manor of Sawley and county of York, and at the time was "disordered in body, but sound of mind and memory".
He made the following will bequests –
daughter Elizabeth Jackson, 50 pounds
son William Jackson, 80 pounds
daughter Ann Jackson, 5 shillings
daughter Mary Holgate, 5 shillings
daughter Margaret Redmayne, 5 shillings
wife Margaret Jackson – tenement on which I dwell called "Butchers tenement"

then to go to son Robert Jackson after her death

son Richard Jackson, 5 pounds
son Samuel Jackson, 5 pounds
son William Jackson, 5 pounds
His wife Margaret signed her husband's will obligation, stating she was the widow, relict and sole executrix, along with Samuel's brother Ralph (to prove it) on 30 June 1775.
Margaret died the following year on 20 January 1776 at Knotts. She was buried at St Peters, Bolton by Bowland on 23 January 1776 aged 61.
The headstones have been transcribed for this cemetery here.