William Milverton was born in 1816 in Tash Street, Holborn, London, England. He was baptised on 28 July 1816 at St Andrew's Holborn.
William was the son of James Milverton, a carpenter (1776-1831) and Ann Nancy Membry (1778-1859). William was one of nine children born to the couple, including my ancestor Daniel. His older brother William was baptised in 1810, but he died as a baby, and as was the usual custom, another child was given his name.
James and Ann were from Winsham, Somerset, but had moved to London around 1807, and lived in Holborn, London.
William's father James  died in September 1831 (falling off a ladder) when William was only 15 years old, leaving his mother Ann to bring up the nine children alone.
The family were now obviously struggling to make ends meet with no father to support them. Did this make one of the boys turn to a life of crime? Yes it did.
The family having no money to put the boys out into apprenticeships to earn a trade sent William off to sea at a young age. Some years later he returned, and got in with bad company.
He was living on a loaf of bread a week from the parish. (mother Ann's letter dated 1840). The parish was responsible for the upkeep and feeding of the poor.
On the 18th October 1835, at 1am, William, a labourer, broke into the house of Mr John Sumpter in Holborn, and stole several items including a pair of boots, 2 caps, 1 handkerchief, 1 towel, 1 pair of scissors, 1 book, 1 basket, 1 waistcoat, 1 razor and 1 razor sheath. Total value 20 shillings.
Mr Sumpter's wife woke up at the noise, and her husband got up to see the cause of the disturbance. He found a plane of glass had been taken out of the parlour window, and several items missing which he reported to the police.
William used the basket, covered with a white cloth, to carry his goods away from the crime scene, but unfortunately for him he was stopped by an inquisitive policeman the next morning in Blackfriar's Rd.
The policeman, Mr Charles Goff, inquired what he had in the basket, and where was he going, to which William replied he was taking them to a mate at the Customs House.
The policeman didn't believe him, and then marched him down to the local police station, where news of the robbery and the missing items from the night before were revealed.
William was committed to Newgate prison on October 24th (Newgate Prison Calendar), awaiting trial at the Old Bailey prison which occurred on 26 October 1835. The judge pronounced William Milverton guilty, and handed down a sentence of death to the 20 year old lad. (Old Bailey trial transcript).
The case appeared in the local newspapers  stating William had been capitally convicted of burglary. (Bells Weekly Messenger 2 Nov 1835, London Courier and Evening Gazette 21 Nov 1835, The Evening Chronicle 23 Nov 1835).
William also petitioned the court,from his cell in Newgate prison stating that he had been a seaman but was unemployed for two months and was able to get only a loaf of bread a week from the parish to live on. He had been sleeping in a shed at the back of the house where his mother lodged for some nights, when he was tempted to commit the burglary by an open window. (National Archives UK – Ref HO 17/120/53).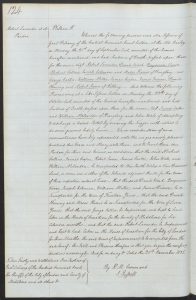 A letter of clemency was also sent to the judge for William from J Russell, H M Command, asking for his sentence (along with a few other prisoners) of death, to be commuted to transportation for life.
(National Archives UK – Ref HO 13/68 pg, 124).
Despite there being a recommendation from the judge of no mercy, on 20 November 1835, William's capital conviction was commuted to transportation to the colonies for the period of his natural life.
(National Archives UK – Ref HO 13/68, p124).
William appears in the Newgate Quarterly Returns of Prisoners, and is described as being of good health by the prison surgeon, and of good behaviour in 1835. (National Archives UK – Ref HO 8).
William was sent to a Convict Hulk docked in London to await transportation to Australia. The prison hulk was called the "York", and was docked at Gosport in Hampshire.
The York was a 74-gun third-rate (inferior quality) ship  launched in 1807 at Rotherhithe. She was converted to a prison hulk in 1819 and served as a prison hulk at Gosport and London from 1820 until 1848 when a serious rebellion broke out. Typically she confined about 500 convicts. She was taken out of service and broken up in 1854.
On 27 October 1836 William, along with 279 other convicted criminals, was placed on the Convict Transport Ship "Norfolk" and they set sail for Sydney, Australia (Australian Transportation Registers 1791-1868). His fellow convicts had come from all over England, to be transported for either 7, 14 or life imprisonment in the colonies.
After a journey of three and half months, the "Norfolk" and its motley crew arrived in Botany Bay, Sydney on 12th February 1837..
William appears in the 1837 Convict General Muster for NSW – "Norfolk" ship.

In the Annotated Printed Indentures for NSW Convicts 1788-142 we get a wonderful description of William.
The indent states he is now aged 23, he can read and write, he is protestant, from London, his occupation is given as a house servant, he was convicted of house breaking in the Central Criminal Court (the Old Bailey) on 26 October 1835, sentenced to life, no prior convictions, pale complexion, brown hair, hazel eyes, hairy chest, hands freckled, scar under back part of left jaw.
William may have then been assigned to a free settler, around the Sydney area or outskirts to serve out his sentence. Convicts were a source of labour to build roads, bridges, courthouses, hospitals and other public buildings, or to work on government farms, while educated convicts may have been  given jobs such as record-keeping for the government administration.
The easiest way for a convict to reduce their sentence was to work hard and stay out of trouble, so they could then apply for a ticket-of-leave, or pardon. Any further misbehaviour could result in the ticket being taken away from them.
Amazingly, I found a record of where William spent some of his time in 1840. His mother Ann Milverton, wrote a heart breaking letter petitioning for the reduction of his sentence, from England,  on 31 March 1840. In it she begs that although she is 'sinking into her grave and doesn't hope to see him again' she pleads that he may see his native land once again. Click on the letter to read it. (National Archives UK – Ref HO 17/120/53).
She stated that her son was working for the Bishop Polding, Wooloomooloo, in Sydney, who is very satisfied with him and has said he will do what he can to get a mitigation of his sentence. The record was annotated 'The prisoner's mother prays for a mitigation of his sentence but no grounds are stated'.
On 4 April 1840, the Home Office refused the application of his mother of 91 Britannia Street, City Road, London to pardon his sentence.
In October 1842, five years after William had arrived in Sydney, he applied to the Governor to marry Miss Eliza Matthews. (NSW Registers of Convict Applications to Marry 1826-1851).
His application stated he was 28 and Eliza was 25. He states his convict ship was the "Norfolk" and she arrived on the "Orient", and that she came 'free' (not as a convict). The Rev F Murphy of Sydney was the clergyman recommending him.
Eliza had arrived on the "Orient" by herself, on 13 December 1840 into Port Phillip Bay as a 23 year old, catholic, Dublin born, house servant.
Convicts could only be married by banns being read out in a church on three successive Sundays, after they had first obtained official permission to marry from the Governor. A bann allowed parish members to object to the marriage, which was often the case, resulting in a declined application. There being no objections, William's application was granted on the 20th October 1842.
Marriage was encouraged by early governors and clergy due to its 'presumed reformatory and moral advantages'. Land grants were also offered to married convicts, with additional land granted for each child born.
So now, with the church and governments permission, William married Eliza on 2 November 1842 in St Mary's Catholic Church, Sydney.
William and Eliza had four known children, but only two survived childhood –
Michael Joseph b 1844 Sydney d 1925 Liverpool NSW married Mary Quirk
Charlotte b 1846 Sydney married Samuel George Stump
Elizabeth b 1848 d 1850 Sydney
James b 1850 d 1852 Sydney
William's son Michael appears in the NSW Police Gazette in 1883 as a victim of crime when his property – a bag leather saddle – was stolen from his place in Gulligal.
Michael married Mary Quirk in 1887 in Gunnedah and had three children – Charlotte (1872-1950), Maryann (1873-1911) and Michael (1875).
Charlotte married Samuel George Stump in 1871 in Sydney and had three children – Samuel (1871-1947), William (1876) and Arthur (1880-1947).
After the birth of his first two children in 1847, William applied and was granted a conditional pardon by the governor. (NSW Convict Registers of Conditional and Absolute Pardons 1788-1870).
Conditional pardons meant that a convict was free as long as they stayed within the colony, known as "Government limits". The majority of  convicts in Australia received a conditional pardon. Absolute pardons meant that a convict's sentence was completely remitted, and they could return to England if they wished.
His Conditional Pardon was reported in the Sydney Morning Herald on Fri 17 November, 1848 page 4.
I like to think as soon as he was pardoned he sent a letter straight off to his poor old mum in England letting her know. Thankfully she wasn't 'sinking into her grave' when she wrote on his behalf in 1840, but lived on until 1853, when she died in Finsbury, London at the age of 74. In the 1851 census Ann was living with her daughter Maria Taylor.
Unfortunately I haven't been able to discover when and where William died, but I do hope after all his trials and tribulations, he managed to carve out a good life for himself and his family, and that he was reunited with his brother Daniel (living in Darlington) who came out to Australia as a free immigrant in 1854. In 1871 Daniel was living just 3 kms from William's last known address, so its very possible they reunited.
In 1871, William's daughter Charlotte was married – "the daughter of the late Mr William Milverton of Belgrave-terrace, Forbes Street, Darlinghurst to Samuel George Stump of Edward St on 21 Jan 1871 at minister residence 41 Burton St, South Head Rd, Sydney". (Sydney Morning Herald).
So the only clue I have to finding his death, is that he died sometime between his pardon in 1848 and his daughter's marriage in 1871. I have been unable to find the death of William's wife Eliza also.