William Gray was born, illegitimately, in 1816 in Low Fell, Durham to parents Job (or John) Gray (b1794) and Jane Wind (b 1796).
On 11 January 1816 in Great Usworth, Durham there was a removal order upon the complain of the churchwardens and overseas of the poor in Great Usworth. Jane Wind, a single woman with child should be removed to the parish of Lamesley (so that parish would be responsible for her upkeep).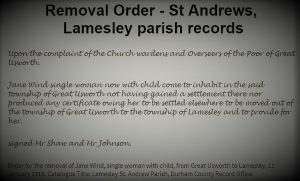 William was baptised on 28 July 1816 at St Andrews, Lamesley, with the parish register stating that he was the illegitimate son of Job Gray, pitman, and Jane Wind of Chowden, Durham. (note Chowden and Low Fell are part of the same village).
William had at least one sister – Jane Gray born 1824 in nearby Kibblesworth, Durham. Jane married Robert Miller and in 1871 their father Job (sometimes John) was living with them in Chester le Street, Durham.
William Gray, pitman coal miner of New Lambton,  married Jane Newton, servant of Claypath, on 5 October 1839 at St Nicholas Durham City.
William states his father was Job Gray, pitman, and Jane's was William Newton, pitman.
Both were unable to sign their name and made their 'mark'. The witnesses to the marriage were John Day and John Bradley.
Jane Newton was born on 26 May 1816 in Birtley, Durham to parents William Newton (1790-1858) and Margaret Pratt (1792-1868). She was baptised on 26 May 1816 in Chester le Street.
Her father William Newton was of Lee Fields and was a banksman – a miner that works at the pit bank to dispatch the coals, and organise the workforce.
He was in charge of loading or unloading the cage, drawing full tubs from the cages and replacing them with empty ones.
Jane was one of eleven children. Her family moved around between different coalfields such as Fatfield, Birtley, Urpeth, Leefield, Porto Bello, Kelloe, Cassop, Coxhoe and Chester le Street.
William and Jane had five children –
1841 William b New Lambton d 1918 Chester le Street marr Elizabeth Emery
1846 John b East Hetton d
1848 Henry b East Hetton d 1913 New Herrington married Jane Brown
1851 Job b East Hetton d 1851 East Hetton
1852 Job b East Hetton d 1929 Murton married Isabel Marr
In 1841, William and Jane were living at Ox Close in Kelloe, Durham with their nine month old son William. William was a coal miner like his father before him.
Ten years later in the 1851 census, William and Jane have William, John, Henry and Job at 92 East Kelloe, Coxhoe.
Baby Job will only live for less than a year, dying in September.
Ten years later in 1861 the family had moved to Pond Row, Cassop. Henry was now 13 and John 15,  and Job 9 was at school.
Strangely father William is not included, and Jane is listed as the household head, perhaps William was away finding work when the census was taken because he was still alive then.
Jane Gray nee Newton passed away in 1867 aged 51.
By 1871 William, widower aged 53, was living in East Hetton, Coxhoe, and the census form states he only has one arm, so perhaps he lost it in a mining accident. He is living at number 19, Fourth East Row and has a 17 year old servant Elizabeth Anderson with him. His occupation is still given as miner.
East Hetton Colliery, which has been worked for over half a century, was purchased in 1880 by the present owner, Walter Scott, Esq.
The seams worked here are the Low Main, the Hutton, and the Harvey, varying in thickness from 2 feet 4 inches to 3 feet 6 inches, at a depth of from 89 to 135 fathoms. The Five Quarter seam was worked out in 1873, and the Main seam in 1887.
There are 70 coke ovens, and extensive fire-brick works. The bricks are made from the clay found in the pit ; 1100 men and boys are employed. (Whellan's 1894 Directory of County Durham).
On 6 December 1873 William, aged 57 decided to get married again. He wed Margaret Nicholas, a widower at Kelloe, Durham. William gives his father as Job Gray.
Margaret is the daughter of Thomas Nicholls. Margaret died in December 1878 and was buried on 24 December 1878 at West Herrington.
William died in July 1896 and was buried at West Herrington on 15 July 1896 aged 80 years old.