Eden White 1 was born in 1749 in Towersey, Buckinghamshire, England, the son of Charles White (1725-1802) and Jane Cooper (1714-1807).
Eden was baptised on 19 April 1749 at St Catherines, Towersey, Oxfordshire.
He was one of four children born to the couple.
Eden's father Charles was a farmer and a churchwarden at Aston Rowant.
Towersey, was a parish in the district of Thame and county of Buckinghamshire, but is now in the county of Oxfordshire. It lies 1¾ mile east of Thameand the population in 1871 was 449 consisting of 100 houses. The Manor House is the seat of E. Griffin, Esq.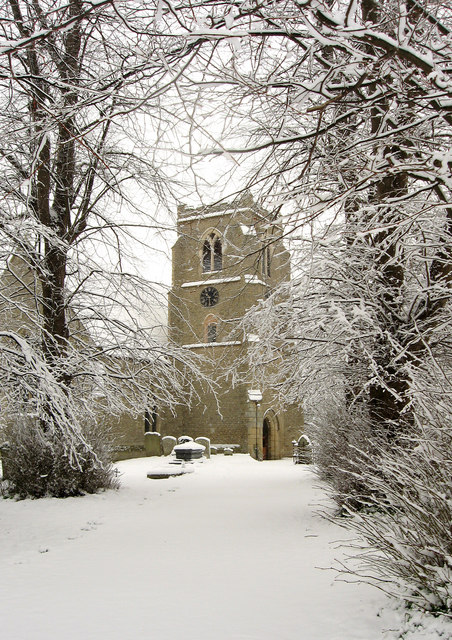 Towersey was used several times for the filming of "Midsomer Murders" and you can read more about the properties used here.
Eden White was a yeoman tenant farmer, working part of the Lowdnes-Stone-Norton estate in Chalford. The White family farmed Chalford Green Farm, now Upper Chalford Farm, at Chinnor, Oxfordshire for over 150 years. His youngest son, Thomas, took over the farm after his father's death.
Upper Chalford Farm now is part of the English Open Garden Scheme and is described as a Jacobean farmhouse garden surrounded by fields, old roses, shrubs and perennials. Unusual trees, an ancient black pine, and Caucasian wingnut tree. Hidden gardens with different plantings and peaceful places to sit. Spring fed ponds and stream with damp planted banks leading to reclaimed woodland with treehouse, bog garden and wild flower meadow.
The barn is heritage listed and is described as an outbuilding approximately 4 metres west of Upper Chalford Farmhouse. 18th century timber framed barn on a 19th century brick plinth. Single storey 2-bay barn with a central wooden dividing wall, there are stable doors on the north and west walls. The barn is weather boarded with a tiled roof. You can see a photo of Upper Chalford Cottage here.
A plaque hangs on the wall inside the church of St Peter and St Paul of Aston Rowant, Oxfordshire describing that rent from a piece of Eden's land at Chalford is to be given to the poor of the parish.
At the age of 24 on 16 July 1773 Eden married Sarah Wall at St Michaels in Chalford. The couple were married by license and the witnesses were her father Richard Wall and Edward Boswell. The marriage bond was written in the parish of St Michaels with Eden and John Doe agreeing to pay the marriage bond.
Sarah was born in 1751 in nearby Thame and was the daughter of Richard Wall and Elizabeth Harris. She was baptised on 15 May 1751 in Thame, one of four children born to the couple. A Richard Wall, innkeeper, died at Thame in 1797 which may be father. Her brother Richard died in Thame in 1829 aged 80 years.
Eden and Sarah had eleven children, the first three were baptised at Sydenham and the remaining children were baptised at Aston Rowant –
Jenny 'Jane' b 1774 Chalford d 1850 Crowell. Marr John Beasley.
Eden b 1775 & d 1776 Chalford
Eden b 1777 Chalford d 1848 Aston Rowant. Marr Mary Rixon. 12 children.
William b & d 1778 Chalford
Elizabeth b 1779 Chalford, d South Weston. Marr John Smith
Richard b 1782 Chalford,  d 1854 Lewknor. marr Susannah Amon. 2 children.
Mary b 1783 Chalford d  Marr Thomas Hicks in Aylesbury.
John b 1787 Chalford d 1872 Thame. Marr Martha Hollier. 7 children.
Thomas b 1790 Chalford d 1854 Chinnor. Marr Elizabeth Hatton. 3 children.
William b 1793 Chalford d Wycombe, Bucks.  Marr Tomasin Bruse. 2 children.
It was son Thomas that inherited the family farm from his father Eden. He was the main beneficiary from his father's will which included the farming implements and corn.
For many years a rota of 7 or 8 of the principal farmers served as churchwardens and parish overseers at Aston and Kingston, and members of Chalford's two farming families, the Whites and the Stephens, served alternately. A uniform rate was levied for the whole parish, but each overseer kept separate accounts. British History Online.
In March 1799 the parish can be found engaging the services of a village mole catcher. The document reads "we whose names are herewith subscribed being the greater part of the occupiers of the lands in the parish of Aston Rowant do hereby signify our names to agree with John Grant of Wormenhall that in case he shall pay proper attention to taking the moles in the parish for three years, etc, etc."  
Eden was one of 13 men who signed their names at the bottom of the document.
In 1812 Eden appears on a list of people renting land in the church meeting notes, listed as Mr Eden White of Chalford. The document reads –
At a meeting of the parishioners held at Easter 1812 the church lands which had been for many years let to William Quartermain deceased at the yearly rent of £2.10s per annum are now let from Lady Day 1812 to Mr Eden White of Chalford 2 1/2 acres at £2.10s per annum in Aston Fields and to Mr Jonah Brittnell of Thringston 2 1/2 acres in Thringston Fields at £2.10s per annum being a rise from £2.10s to five pounds per annum upon the five acres.
Eden's wife Sarah died in November 1814 aged 63 years and was buried at Aston Rowant on 17 November 1814.
Eden wrote a will on 20 December 1829 which can be found online here.
This is a list of his beneficiaries –
£30 to dear daughter Jane, wife of John Besley of Crowell, farmer
£100 to son William White of Chalford, labourer,
£30 to son Richard White of Longwick
£5 to son Eden White of Kingston Blount, farmer,
£5 to son John White of South Weston, labourer,
£5 to daughter Elizabeth, wife of John Smith of South Weston, labourer,
£5 to daughter Mary Hicks of BKM Aylesbury, widow, relict of Thomas Hicks of Aylesbury, baker
I give all the residue of my ready money, goods and chattels, with all the live and dead stock, implements of husbandry, corn and hay in the ricks and barns, both threshed and unthreshed, also all the household furniture, linen, china, plate, trinkets and wearing apparel in and around the house and farm where I now dwell at Chalford and all my personal estate to my son Thomas White and his heirs etc forever.
It seems unusual for the farm to be left to the youngest son, but that is what Eden decided. His son William also seems to have been a favourite, gaining a healthy 100 pounds. Perhaps his oldest son Eden was out of favour, as he only received 5 pounds.
Eden White died on 10 January 1833 at his farm in Chalford, and was buried at Aston Rowant on 24 January.
When I visited the churchyard in 1998 I searched through the untidy undergrowth everywhere for a long time looking for his headstone and was almost about to give up when serendipity struck and lead me to find it along the back fence. It reads –
"In Memory Of
Eden White
of Chalford in this Parish
who died Jan 10, 1833
aged 87 years
Also buried Charles White,
His brother
Who died 9 Apr 1825
aged 67″
The following year a notice appeared in the Oxford Journal newspaper inviting creditors to contact his solicitor in Watlington.