Alexander McCombe was most likely born around 1644 (according to his age at burial) in Scotland, United Kingdom. His parentage is unknown. There is a baptism in 1644 at Inverness for an Alexander McCome, son of Alexander that may be for him, but it is unknown where in Scotland he originated.
There is mention of a family of Scotch Irish Pioneers by the names of Alexander and Hugh McComb in the book 'Scotch Irish Pioneers in Ulster and America in 1707' by Charles Knowles Bolton.

The author states –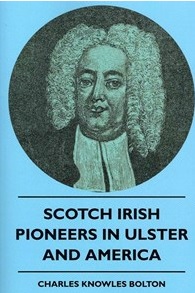 Vital Records Of Towns In Ulster – Before 1755 Birth, marriage and death records in Ulster at the time of the Protestant migration to Ireland and America are very meagre.
Those which relate to members of the Established Church rarely reach back to this period except in the large towns and cities, and facts concerning members of dissenting chapels are still less common. It must be said, however, that many dissenters were married and buried by the Episcopal rector or curate, to satisfy the law.
In 1701 Alexander McCombe appears in the Court of Chancery records with the Savage family – early Norman landowners in the Ards area of County Down, Ireland.
Alexander McCombe was a ruling Elder in the Presbyterian Church at Portaferry in 1707.
Alexander married twice – firstly to Mary Maxwell around 1685. According to her age at death she was born around 1650. Alexander and Mary had at least two children together –
John b 1686 Kearney, Down d 1766 Slanes. Married Rachel Carson 1679-1766. They are also buried with John's father Alexander and the headstone reads Rachel Carson wife of John McComb who died Feb 1766 aged 87.
James b 1692 d 1735 Ballyvester. Married and had seven sons and one daughter. His family are mentioned in the book The Burning of Freeduff Presbyterian Church in 1743.
Mary McCombe died in January 1693, possibly either in, or from complications with childbirth, and was buried at Slanes on 10 January 1693. Her memorial lies in the Slanes Churchyard (see below).
Alexander then married again to Jean Litel. It is unknown if they had children.
Jean Litel was mentioned in the Scottish Covenanters Index, and her birth was recorded as being about 1655 in Hungryhils, Scotland. (Book 23 Vol 9, page 663).
It is likely that her husband Alexander McCombe was also a Scottish covenanter.
Those who remained steadfast in their Presbyterian beliefs and refused to take an oath to the king saying that he was the head of the church became known as Covenanters. They believed that Christ was the head of the church, not the king, and were punished for this belief. They were known as the 'persecuted faithful remnant' of the Presbyterian Church of Scotland. In 1638, thousands of Scots signed the National Covenant, pledging to resist changes imposed by Charles on the kirk; following victory in the 1639 and 1640 Bishops' Wars, the Covenanters took control of Scotland.
After the 1660 Restoration, the Covenanters lost control of the kirk and became a persecuted minority, leading to several armed rebellions and a period from 1679 to 1688 known as "The Killing Time". Following the 1688 Glorious Revolution in Scotland, the Church of Scotland was re-established as a wholly Presbyterian structure and most Covenanters readmitted. This marked the end of their existence as a significant movement, although dissident minorities persisted in Scotland, Ireland, and North America. Wikipedia.
Alexander's second wife Jean died in September 1733 in Slanes, County Down and was buried in Slanes, and commemorated on a headstone with her husband (see below).
Jean's will dated 1734 appears in the Irish Will Index (PRONI), stating that Jane (Jean) McCombe, alias Little, of Newcastle, Down, widow of Alexander McComb.
Alexander died in July 1724 in Slanes, and he was buried there in July 1724. A memorial to him and his two wives appears in the churchyard.
"Here lyeth the body of Alexander McComb who departed this life 12th July 1724 aged 80 years Also his wife Mary MAXWELL who departed this life 10th Of January 1693 aged 43 years Also his wife Jean LITEL who dyed September ye 6th 1733 aged 80 years".