Rev Alexander McCombe was born around 1705, in Rathfriland, 9 miles north east of Newry, County Down, Northern Ireland to father James McCombe 1692-1735.
His father James McComb was of Ballyvester, County Down (50 miles north east of Newry).
Alexander was said to be the youngest of seven brothers and over 6 feet tall. He bathed every morning in a nearby stream, breaking the ice to do so in winter. Most of his brothers went off to make their living at sea. The book Burning of Freeduff Presbyterian Church 1743 by Shaun Farrell, page 78 gives some wonderful insight into the Rev Alexander McComb/e –
"By any measure, McCombe proved to be an inspired choice.  A charismatic figure and a tireless recruiter, he would be minister of Freeduff Presbyterian Church until June, 1795; he died two years later at the age of 92.
Determined to be a minister, McCombe went to the nearby school at Killyleagh.  Throughout the the eighteenth century, Killyleagh Academy had a somewhat controversial reputation among Anglican religious elites, some of whom saw it as a training ground for heresy and advanced politics.  Killyleagh was later associated with New Lights, non-subscribing Presbyterians, and the Society of United Irishmen,  The school ultimately closed in the 1790s for such reasons.  
On the Surface, McCombe's theological views seem to have been anything but controversial: his thesis centred on the idea that the Roman Pope was the Antichrist and when asked whether he would subscribe to the Westminster Confession of Faith, he answered in the affirmative,  Clearly Killyleagh's radicalism had its limits.  Accepting Randle Donaldson's invitation to visit Creggan, McCombe was ordained in the Fews Barracks in 1734, a location that symbolized the union of religiosity and security that lay behind the creation of this controversial community in South Armagh.  A modest thatched-roof meeting house was built later that year to allow for the spiritual needs of the future congregation."
Two of Alexander's brothers may be –
James McCombe, born around 1703. Mentioned on one of Rev. Alexander's land leases dated 29 Oct 1753 and registered 9 Apr 1768 is "Witnessed by James McCombe, then of Altnamoihan in the Co of Armagh Gent since deceased." Possibly either his father or brother.
.
Arthur McCombe, born around 1704, described on a lease entitled Tipping to McCombe, and dated 26 June 1735, the lease is for the lives of Alexander McComb, Arthur McComb 6th son of James McComb late of Ballyvester deceased, and Thomas Tipping. Arthur died in 1776 at Slanes, County Down, near Ballyvester where their father is said to be from. (Crossle Genealogical Abstracts FMP).
The town square in Rathfriland is located on top of the hill, and a market house (erected around 1764) which dominates the main square. The lower part was used for the linen market, and the upper part contained accommodation for holding courts. An old map of 1776 prepared for the Meade Estate shows streets, lanes , tenements and gardens forming the beginning of the town. According to the map of the Rathfriland estate, the McCombs owned land near 12 and 14 Grallagh Road.
Alexander attended University in the Scottish city of Glasgow and appears in a List of Members of Glasgow University as an 18 year old in 1723. Glasgow University is the fourth oldest university in the English speaking world, founded in 1451. In the year 1700 the student population reached 400.
The latin translation in the image below reads '4 March 1723 – the names of first class disciples who entered the university this year under the protection of the teacher John Loudun. Alexander McCombe, winter.' (Source – Munimenta Alme Universitatis Glasguensis found on  Archive.org).
The majority of students were sons of ministers, burgesses and farmers; these were accompanied by a smaller number of sons of the nobility and gentry, and a number of bursars whose parents could not otherwise afford the expense of higher education. (www.Scotsman.com).
Around 1726 Alexander married Elizabeth, surname unknown. Elizabeth was mentioned as his wife in a later 1741 Court of Equity bill. Two daughters were born to the couple –
Elizabeth born 1733, married Rev George Richey. Two children Alexander 1752-1799 and Mary Richey 1768-1840. In 1766 Elizabeth is named in the marriage settlement and land deed. She received 250 pounds on her marriage to George.  The marriage settlement memorial document can be found and downloaded on FamilySearch here.
.
Esther born around 1739 in Altnamachin. In 1760 she married Nathanial Carlile. Esther was also provided with a marriage settlement to her husband Nathaniel Carlile, which is the next deed in the series. Nathaniel's father David Carlile appears in the 1765 Religious Census of Newry, Down as a dissenter (Presbyterian).
Alexander is mentioned in many, many Title Deeds documents held at the Public Record Office of Ireland. These can be found using the search page of the eCatalogue here. These date from 1735 (for the lease of land in Creggan, Armagh, Northern Ireland from Thomas Tipping).
Other leases are dated 1744 (meeting house land), right up to 1794, etc. Rev Alexander's son Alexander also has many lease documents in his name.
Elizabeth, the Reverend's wife, must have died sometime before 1746, as Alexander next married widow Mary Edwards, daughter of Robert Edwards 1675-1747 and Martha de Lavie 1680-1730. Mary had previously married the Rev Robert Stewart on 9 Sept 1725 (per their marriage settlement).
Mary & Rev Robert Stewart had nine children – Samuel 1728-1766, George Edward 1730-1779, Robert Andrew 1730-1812, Martha 1732-1800, Elizabeth 1734, Rev Andrew 1738, Alexander Eward 1742-1819, Maria Jane 1744 and Hugh 1746.
Given that Mary was about 43 when she married Alexander, it is likely, but not impossible, that they had no children together. Mary died sometime after 1758 (when she was mentioned in the Chancery records) and before 1772.
At the age of 67, on 20 Feb 1772, the Reverend Alexander decided to marry for the third time. This time to widow Ann Craige, maiden name unknown.
Ann was the widow of James Craige of Ballibay, Monaghan, Ireland. There are several land lease documents mentioning James and his wife Ann Craige renting land in Glinch. James and Ann had one son John Craige who was born in 1759 in Ballibay. John married Elizabeth Gillespie around 1780 and had five children – Elizabeth, John, Letitia, Jane and James.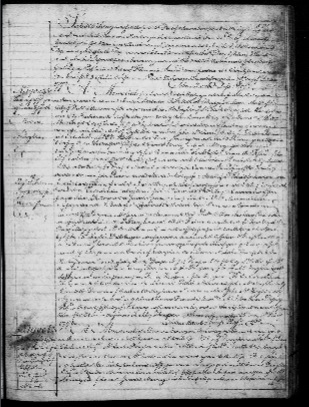 It seems not long after the girls father married his second wife, the Rev Alexander ran off to the Deeds Registry Office to make sure his first two children were well provided for, in case he predeceased his second wife. He settled 250 pounds on them each.
A marriage settlement memorial deed also survives dated 21 February 1772 naming the Revd Alexander McCombe of Osier Hill, Armagh and Ann Craige of Balliboy, Monaghan, widow and Rev John Warnock of Castle Clouney, Monaghan and Thomas Brounker of Bellgreen.
Alexander, despite his age of 67, he and his 36 year old wife Ann went on to have four children together:
Lieutenant James McCombe, born ca 1771. He married Agnes Moore in 1792 in Rathfriland, Down.  He was a soldier, dying abroad (A Historical and Statistical Account of Upper Fews Armagh by John Donaldson).
.
Alexander McCombe, born 1775  was a member of the Attorneys and Solicitors of Ireland in 1798. He married Esther Godbey and had 9 children. It is also possible he married Ann Dunbar in Dublin in 1805.His father had a lease with Jane Dunbar in 1765. According to a Marriage Settlement document dated 1824 his wife Esther was aged 18 and was a ward of the court, and they eloped to marry in Scotland. He died in 1860 and is buried with his father and mentioned on his headstone at the Creggan Presbyterian church. His death notice states he died at Harrymount House, Warrenpoint near Newry in his 85th year, formerly a solicitor in Dublin. Lots of descendants in Canada.
.
Ann McCombe, died as an infant in 1785, and is mentioned on her parents gravestone.
.
John McCombe born 1790. John was also a soldier, of the 45th Regiment. He married Elizabeth Hamilton of Church St, Newry on 4 May 1808. He died before 1814.
In 1733 several landed proprietors of the Creggan parish (14 miles south west of Newry), invited Presbyterians to settle in their respective estates, and they invited Rev. Alexander McCombe, a licentiate of the then Presbytery of Killileagh to be their minister. He was ordained at Fews Barracks, Creggan.
In a land lease dated 26 June 1735,  Alexander and his brother Arthur are mentioned -"for the lives of Alexander McComb, Arthur McComb 6th son of James McComb late of Ballyvester deceased, and Thomas Tipping". He leased nearly 460 acres in the townland of Altnamackin as well as 66 acres at Tullyvallen.
Alexander's two storey home was named Osier Hill and was in the village of Altnamackin (Altnamoihan), 14 miles west of Newry. He built many other houses around and let them out to fellow Presbyterians at small yearly rents.
Alexander was then the Presbyterian minister at the Freeduff meeting house.
Unfortunately, the political and religious climate at the time led to the burning down of his church, and he gave testimony that the "evil disposed persons of the papist religion (the catholics) had destroyed his meeting house".
There are several lease documents registered in which the name of Rev Alexander McCombe appears to be found in the Registry of Deeds on Familysearch –
1744 – Between Randal Donaldson of City of Dublin, Esq of the 1 part Thomas Tipping of Castletown, Co. Louth, Esq. James McCullagh of Peymount, Antrim Esq. & Alexander McCombe of Altnamoy, Co.
1744 – 1 acre, peppercorn rent yearly, Freeduff where Dissenting Meeting House lately stood. Deed 81420.
1752 and 1753 – Adland Linen Mine – Rev McCombe, regarding linen manufacture, stone, slate, etc
1753 – Land lease No 170416 between Alexander McCombe of Alnamoihan, Armagh and James Horn/Harm of same place.
1765 – lease with a Jane Dunbarr, Widow of Dublin. He put up his lease at Althamoyhan as collateral for a loan or debt worth 173 Pounds and change and then there was a release later on, presumably after he had paid her back. This may be a relation of sons wife.
1768 – Land conveyance deed Rev Alexander McComb of Ozier Hill, Armagh to Alexander Jenkin, farmer of Tullyvallen, Armagh
1782 – Memorial indented deed Robert Sibthorpe of Newtown; Robert Dickie of Clonaleenan; Alexander McCombe son of Rev. Alexander McCombe and others.
1783 – Marriage Deed article No 390254 between Andrew (eldest son Richard) of Anamaquiff & Joseph Donaldson of Creggan (2nd dau Elizabeth) – witness by Rev Alexander McCombe of Altnamachin
1793 – James McCullogh of Altnamakin .. Revd Alexander McComb of Ozier Hill in 1793 demised to James McCullogh townland of Altnamakin 9a Irish measure. Parish of Newtonhamilton, Co Armagh
1796 – James McCullagh of Altnamackin to David Boyd of same for £47.13.3 ½. that Alexander McComb of Ozier Hill 2 Nov 1793 let to grantor 9 acres plantation measure in Altnamackin for 3 lives Edward Tipping of Bellurgan Park Co. Louth Esq. said Alex McCombe
The Rev Alexander McComb/e is also named in many documents in the Court of Chancery and Court of Equity records between 1730 and his death in 1797. Sometimes other family members are mentioned with him, such as his brother James (1746), his brother John (1763), his wife Elizabeth (1741) his wife Mary Stewart  (1758) and her children with Rev Robert Stewart (1753), and the Craig family (third wife Ann's family).
The Exchequer Court of Equity was at the very centre of Ireland's legal system and from the mid-17th century held jurisdiction over financial disputes such as titles of land, debts and wills. Unfortunately there are no townlands named, just people.
In 1761 Alexander was named as the Moderator of the Synod of Ulster (Presbyterian History of Ireland website).
In 1766 a religious census survey was taken across Ireland. Some suggest it was for ecclesiastical administrative purposes, others suggest security reasons. Just two months before the authorisation by Parliament to take the census, the Old Pretender (the son of the exiled Catholic King James II of England, who the Pope recognised as the legitimate king of Great Britain) died.
On his death, the Pope acknowledged the ruling Protestant monarchy as legitimate. This effectively removed the threat of Rome-inspired rebellion among the Catholics of Ireland.
So Parliament then instructed all archbishops to direct their parish ministers to provide a list of all the parish families, distinguishing the protestants and catholics. Fragments of this census survive, including one for Altnamackan where our Rev Alexander McCombe  were living. He was then 61 years old. It stated he was living in Creggan, and was a protestant. The Public Record Office of Northern Ireland records the following:
On 6 July 1795 at the age of 90 years, the Rev Alexander resigned from his parish at Creggan.
Alexander McCombe died on 9 June 1797 at Freeduff, Creggan, in the County of Armagh in Northern Ireland at the age of 92 years.
He was buried at the Creggan Presbyterian Meeting House and his tombstone is inscribed:
Sacred to the memory of the Rev Alexander McComb who died on the 9th day of June 1797 in the 92nd year of his age. He was for upwards of 60 years the Presbyterian Minister of the Parish in which he now rests and is human misery by a studious attention to the spiritual wants of all and to the temple wants of the poor and unfortunate. In him faith and good works were eminently[?] united. Also sacred to the memory of Mrs Ann McComb his wife who on the 10th day of February 1810 at the age of 74 departed this life having fulfilled the duties of wife and mother of [ ] fidelity, affection and sincerity … in all her actions she was influenced by … motive of the christian religion. Here too lie the remains of their infant daughter Ann McComb who died on 13th June 1785 and of their son and only other child Alexander McComb Esq who died on the 15th day of May 1860 aged 80 years. He was a member of the profession of Attorneys and Solicitors in Ireland from the year 1798 and died the father of a family of 9 children by his wife Esther McComb all surviving him [flat stone].